Brilliant Home Decorating Ideas with Container Gardening
Outdoor decoration is one of the most popular and old methods to beautify homes. Are you looking for fancy home decorating ideas? If yes, this article is for you! When we talk about outdoor decorations, the first thing that comes to mind is greenery and plants. You must be amazed to hear that container gardens are the most versatile and luxuriant natural decoration used nowadays. Here are different ideas about how you can use these potted plants to enhance your home's beauty.  
Give Life To The Plain Walls
Are you tired of the bland, cold, and ghastly appearance of your outer walls? We are here with the home decorating ideas to make your exterior walls full of life. A container garden is a perfect choice to add greenery and attraction, exemplary for outdoor decoration. Think about hanging flower baskets or pots with radiant and striking colored flowers or greenish climbing plants. You will see their magic by curtaining them on exterior facades and backyard walls. Their rich foliage hides all unsightly areas on the wall, including patchy walls and bathroom vents, and the colorful flowers attract the guests from meters.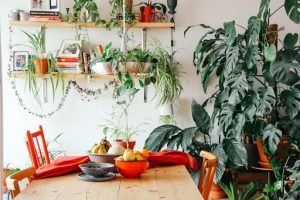 While a fence is typically used to mark a barrier and offer protection, garden fence ideas may also be attractive and appealing. Are you curious about these ideas? Glow up your home's outer spaces and fence with fresh, colorful, and mesmerizing flowers and plants in the containers. Container plants not only shine up the old fence with elegant planters and modern pots but also optimize the freshness and glamor of your garden, yard, and fence. Keep your fence area covered with futuristic flower decoration with the changing seasons and trendy incoming pots, seasonal flowers, and so on. Go on with the following ideas and make your fence enchanting and eye-catching.
Place several large pots on the floor with garden grass and green plants.

Colorful and vibrant pots with seasonal flowers hung on the fence.

Make your DIY hanging baskets with old jars, shoes, and grow plants.

Colorful and vibrant pots with seasonal flowers hung on the fence.
There are several benefits of these home decorating ideas.  A well-kept fence is an excellent strategy to guarantee that your house sells fast and for the highest possible price.
Create Your Signature Style
Experiment with different designs of gardening and explore your creativity! One way is mixing various types of pots, such as two brown pots and one chartreuse planter, creating a powerful statement. The style would be gleaming, contemporary, and sculptural. Furthermore, a potted plant arrangement is an excellent method to frame a patio and balcony for outdoor decorations. When aggregating plant clusters, use a range of colors to give an exciting and appealing look. One advantage of growing potted plants is shifting to indoor spaces in harsh weather.
Imagine entering a castle garden! Do you want to give your garden and outer space a fancy treatment? Consider installing an arbor but not alone! Establish a container garden along with it. Some of the latest ideas in the landscape design are; combining a garden arbor with pots, troughs, and planter boxes. Some plants just thrive in pots; place these plants towards the arbor, where there is usually less foliage and blossoms. The turning and twirling branches of these plants cover the whole arbor in no time. In addition, flowers can be strung from the arbor's front corners. Your simple and plain metal arbor can be converted to a breathtaking and stunning entrance. Make use of these home decorating ideas for the outdoor decoration and get ready to enter into a new world of serenity.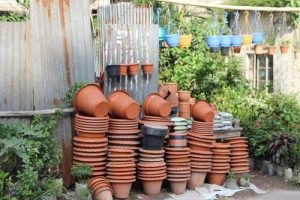 A Brief Guide to Growing Your Container Garden
Now you have seen different ideas to decorate your home with potted plants, but the question is, how can you grow this exquisite art in your home? Follow these simple steps and create your container garden in no time!
Chose a unique container that suits your style

Assemble it with appropriate soil and fertilizer

Select the desired plants

Prepare and plant them with correct positioning

Proper watering

Maintenance
Takeaways
Green areas are always soothing to the eyes. Loving and growing plants is a precious way to love your mother nature. Try the amazing ideas of container gardening to glorify your home. You will indeed wind up with the ideal outdoor space.
READ NEXT: Some color schemes to suit your home exterior
RELATED TOPICS: home garden ideas