How to achieve an industrial style interior at home? 
How to Achieve an industrial style interior design ? 
Industrial-style interior design is a popular trend, inspired by the raw, unfinished look of factories and warehouses. This style of design incorporates a mix of materials such as wood, metal, and brick, and often includes exposed pipes, pipes, and other industrial features. Our goal was to create a space that was both rustic and functional, yet elegant and chic.
One of the key elements of the industrial style is the use of natural materials. Wood is a popular choice for furniture, flooring and decor.
Reclaimed wood, in particular, is a popular choice because it adds character and history to a space. Metal is another common material used in industrial design, especially for pipes and exposed pipes. Wrought iron, steel and copper are also frequently used in fixtures, hardware and trim.
Concrete is another popular material for industrial style designs. It can be used on floors, walls and counters and adds a rugged industrial look to any space.
It also provides a neutral backdrop for other elements in the room, such as furniture and decor.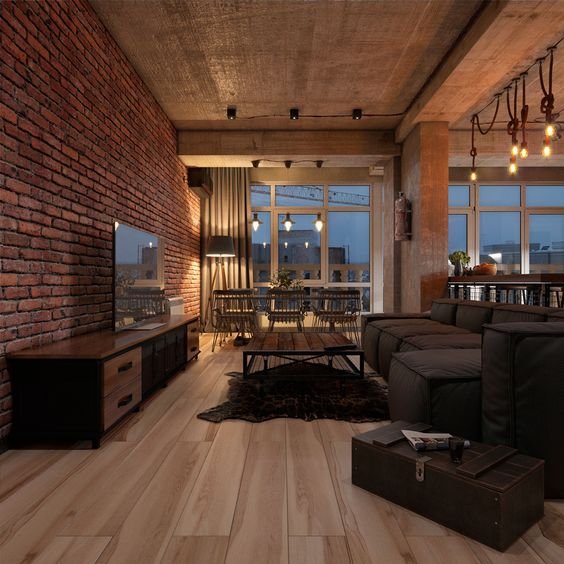 Industrial-style color palettes are typically neutral, earthy tones, with grays, blacks, whites, and browns. Bold accent colors like dark red, navy blue or forest green can also be used. These colors add depth and contrast to a space and can be incorporated into decorative items such as throw pillows, rugs or artwork.
Furniture for industrial-style interiors is often solid and functional, emphasizing utility over beauty.
Pieces often have a vintage or vintage feel to them and are made from natural materials like wood, leather or metal. Sofas and armchairs can have simple, clean lines and be upholstered in neutral fabrics or leather. Tables and desks can have a raw, unfinished look with metal legs and wooden tops.
Lighting is an important part of industrial style interior design. Accessories are often made of metal and have a vintage or retro feel.
Pendant lights with metal shades and exposed bulbs are a popular choice, as are table and floor lamps with metal bases and simple shades. Industrial style chandeliers can also add drama and impact to a space, especially in large rooms with high ceilings.
Less is more for decorating an industrial-style interior. The focus should be on the materials and finishes of the space, not the decorative items. Artwork and accessories should be simple and minimalist, and should complement the overall aesthetic of the room.
A few statement pieces, like a vintage typewriter or a framed black-and-white photo, can add personality and interest to a space without overwhelming it.
Industrial style is usually associated with lofts and warehouses, but it can also work in any type of home. The key to focus is to bring simplicity by using natural colours and introducing some modernistic touches all over.
Styling a home in industrial design can be a challenge because of the difficulty in re-creating the harmony between the high and low tones. Want to get an industrial style home? Let's start over with the fundamentals. You always want your home's arrangement to be tip-top, no matter what design you choose for. Check out our advice on how to make the most of your available space while achieving the industrial-modern design style.
Let's get started! 
Begin with a basic color scheme
When designing a house interior design in an industrial style, it is a routine trend to reserve vibrant colors for accents and other minor design elements, while the majority of the areas in the home are decorated in muted tones. To achieve a neat, uncluttered appearance, the design depends heavily on the harmonizing blend of neutral hues. With dark colored metal framed or glass fixtures, exposed bricks and earthy tone tile mixture is a must-have to achieve an industrial design lavatory without going overboard. 
Go for an open layout 
Industrial-style houses tend to be large and work well with open-plan designs, making them ideal for households. Make use of groups of industrial-style furniture to split up a vast room and make it easier to furnish at the same time.
Choose Industrial Style Lights
Lighting preferences vary from style to style. If you're looking for industrial lighting, you'll uncover lots of possibilities as well. However, industrial interior design has a unique power to transform even the most basic light bulbs into eye-catching pieces of art. Industrial-style lights are usually made out of metal or wood, so they are sturdy but also look really cool. 
Highlight exposed pipes
Pipes can be a great addition to an industrial interior design. When exposed bare or painted with black paint, the industrial piping stands out in the place. Either way, they will definitely add character to your space.
Combine Wood and metal
Blending old and modern Decorating Ideas of different materials is a no-brainer when it comes to pulling off the beauty of industrial designed space. Blending distinct sorts of metal and wood in your design aesthetic is the most effective approach to produce the dichotomy. In a bath decorated in the industrial style, for instance, you may have an old-fashioned vanity made of wood and a mirror with a metal frame will look absolutely stunning
Opt for polished concrete flooring
Concrete flooring ideas is a great way to bring in the industrial vibe of your home. It can be polished or left rough. Either way, it will add texture to your space and make it look more raw and earthy.
Introduce other industrial accessories
There are many industrial accessories available today that you can use to create that industrial look in your home. From lamps, shelves, and chairs made from reclaimed wood, metal, or even old tires; there are endless options that you can choose from.
Why is industrial style decor trendy these days? 
Industrial style is a popular design concept that has its roots in the manufacturing process. It can be applied to interior design as well as furniture, accessories, and other Home Décor Ideas. Industrial style is characterized by its raw or rough look. You might be wondering how to achieve this look at home if you don't have any industrial-looking furniture or accessories. Following the above-mentioned easy ways, it would not be too difficult to add industrial accents to your interior design.
In conclusion, industrial style interior design is all about embracing the raw, unfinished look of industrial spaces. By combining natural materials such as wood, metal and concrete, and using neutral tones, you can create a space that is both functional and stylish. Whether you live in a loft, apartment, or traditional home, industrial styling can add a unique and stylish look to your space.
Read next:9 Top-Notch Wall Decor Ideas for Your Apartment
Related Topics:Interior design ideas