Lighting your home with lanterns
It's the holiday season and you are waiting for your loved one to come home. Why not welcome him/ her with a beautiful lighting design style. Let's welcome your loved one with glowing lanterns in the front yard, backyard, porch, inside the room, and everywhere in the space. Let's cover the whole indoor and outdoor with beautiful lights. Because nothing is more worth than your loved one. 
Lanterns are one of the ancient sources of light. Probably lanterns are in use since 1500BC. But still, the romantic light heats up the hearts and initiates a new era of a beautiful life. In this article, we will briefly discuss how to light up your new design home with a beautiful lantern for a specific event. You can follow this lighting design on new year's eve, Christmas, wedding anniversary, or any other special event.
Decorate your entrance with lanterns
The light of lanterns feels so romantic in two seasons i.e. during the winter season and fall. Every home has an entrance and besides a way to enter the home, it goes straight to someone's heart. So why not place a combination of glowing lanterns on the entrance of the home. Putting glowing lanterns on the entrance will give your new design home entrance a beautiful look. If you have stairs at the entrance. Putting each on the side will improve the look. You may extend the light to the porch. Which will be a step toward glowing your all home.
Try to light up your front yard
 If your home has a front yard, it's time to install some beautiful glowing lanterns to double the beauty of your front yard. Placed at a specific distance the glowing lantern tries to defeat the darkness. At the same time, the dew falling at the flowers or leaves falling from the trees will give your guest a welcome posture. Make sure you take care of the size and quality. If you are afraid of flam you can use battery-operated candles. 
Fixing lanterns on the walls
You can fix a lantern on the wall at a specific distance. It will not only decorate your walls but will give you a welcoming look to the new season and bye to the previous. Make sure you put lanterns on both sides. I am talking about the indoor and outdoor of the home. This style of lighting greets guests in an amazing way. If there is any door you can install a hanging lantern there also. It is also advised to properly change the adornment of the lantern with every season.
Light up your room with lanterns
Whether it is a living room or bedroom, placing a lantern will create a romantic scene. So don't ever miss these locations. It creates one of the best environments to share views with each other. While setting in the room, with a glowing lantern, imagine it romantic or not? If you have a coffee table in the room you can place it or you can install it on the sidewall for a perfect lighting decor design. 
If there is any part on the wall, you can install it among the art. It will give your artwork an amazing look. And itself, it will look like an art. If you have a window in the room, you can install a pair of lanterns on it. Make sure, to use battery-operated candles. As these are safe to use. While if you use fire, there is a huge risk of fire. And it can destroy your holiday season. Always take extreme care while using lanterns.
Lights Up your table with a Glowing lantern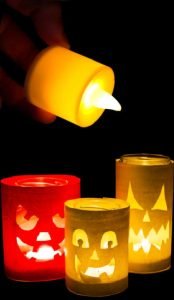 You cannot skip a dining table without a glowing lantern. A candle glowing inside the lantern, while enjoying the holiday season with your loved ones is a blessing of God. Eat well, laugh well, share your thoughts with each other. It really makes sense. You can put flowers on the table too.
Installing lanterns on the backyard
Just like a front yard, you can also install glowing lanterns in the backyard of your home. Make sure it safely installs and you are using battery operated candle. When you are busy while enjoying a cool jet-black evening of fall or winter. It will light up your night. Similarly, a lantern placed in the backyard gives an amazing look from the window inside the home. So either it is an holiday season, or there are any guests in the home. Lights up your home with beautiful lighting decor design. It will give your home a beautiful amazing and romantic look.
READ NEXT: 
RELATED TOPICS: Home Lighting Design