Make your bathroom look costly with some hacks
Everyone is looking for modern bathroom designs. You may enjoy wonderfully a soothing experience in an attractively accessorized bathroom. What can make a bathroom look expensive and trendy? You do not need to spend a lot on your bathroom accessories to make them appear costly and luxurious. You can do this on a limited budget by using some simple hacks. Take a view of some tips to transform your ordinary bathroom into a luxury one.
Revise your bathroom lighting fixtures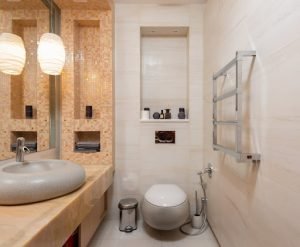 You can give your bathroom an updated appearance by just changing the light fixtures. Pay serious attention to the lights and think twice about how you can change these lights into trendy ones. You may make visits to lighthouses. There you may come across various options that can best suit your bathroom size and theme. A light fixture can bring a great change in the entire theme of your modern bathroom designs.
Usually, wall fixtures are considered best for a bathroom. But over time, it has been accepted that hanging light fixtures leave an excellent option. In modern bathroom design,  you even can notice track lights. You may find your favorite light fixture at an economical price due to a large variety from higher to lower prices. You need to do a little research on the prices and types of these light fixtures. You have to keep an eye on the power supply points of your bathroom also; it will make it easier to choose the appropriate light fixture for the right plug.
Lets nature add charm to your bathroom
You always like to add greenery to every area of your home.  Indoor plants make your interior look refreshing. Nature can do the same for your bathroom decoration. Beautiful plants and flowers can add immense beauty to your bathroom. Nature has soothing effects, so it can be a perfect choice for making your spa time more relaxing. You may add fresh flowers daily to give your bathroom a luxurious and updated look.
Art can rock your bathroom interior
Art pieces have the most powerful expression. They make your interior look expensive. You may choose more than one type of artwork to make your bathroom look fabulous. A beautiful painting can fulfill your purpose. It can complement your bathroom décor amazingly. You can choose a group of paintings or drawings to make the expression more tremendous. 
Frame your mirrors marvelously
Mirrors are an essential part of a modern bathroom designs. You can buy beautiful frames for your mirrors at a lower price. Mirrors can help you in giving a more customized look to your bathroom. Golden and silver frames make your bathroom appear costly. Wood and frames of other materials may add an artistic glance to the interior. Mirrors with magnificent frames are available in various shades and almost every price range. You can use these mirrors to give a modern look to your bathroom.
Rugs can make your bathroom appear luxurious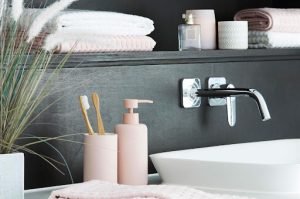 Rugs are always a good addition to your interior. You can use small rugs to make your bathroom appear more updated.  It adds a chic look to your bathroom. Like many other products, you can also have a stunning rug on your limited budget. It will not make you worried about how to adjust your budget to buy one rug. Just making by one or two visits online or in stores, you can buy a unique one.
Customized settings can also make your bathroom look expensive. You can 
Purchase beautiful bathroom accessories sets which can produce a remarkable expression of a trendier look. A set of appealing shower bottles will serve as decorative objects for your bathroom interior. You can have startling soap bars and other bathroom accessories to improve your bathroom interior. Costly towels can also make your bathroom look luxurious.
Transform your cabinet doors and knobs
One simple but effective way to transform your bathroom into a luxury bathroom is that you may change your cabinet doors, or you may replace old knobs with updated ones. You may change the color of your cabinet doors. Updating the cabinet doors and knobs can improve the whole interior.
Make use of oversized tiles
If you have budget enough to replace your floor tiles, you can have an amazingly stunning look by installing oversized tiles. The larger tiles make your modern bathroom designs look wider and brighter. It will add a remarkable finishing to your bathroom décor. You can also opt for appealing patterns of tiles to give a more updated look to your bathroom.
READ NEXT: DECORATING IDEAS TO DESIGN A BATHROOM
RELATED TOPICS:Bath Room Design ideas