Flooring Ideas to Give Your Living Room a Makeover
Flooring Ideas to Give Your Living Room a Makeover
The living room is the heart of the home. When it comes to decorating your Living Room Design, you want it to be warm, inviting, and welcoming. Tiling your floor can help create an elegant look that complements your décor without overpowering it.There are so many different options when it comes to tiling floors — from mosaic tiles to pebbles, from wood grans to stone patterns — but if you're looking for something that will make a statement without being too loud or too bright, here are six gorgeous living room flooring Ideas in 2023

Uplift Flooring with Natural Stone Tile 
Natural stone tile is an excellent method to give a space a sense of depth and richness. High-traffic areas benefit from its stain- and fade-resistance, as well as its sturdiness. There are a wide variety of designs and colours to choose from so it will compliment your current décor.
Go for A Substitute Tile Design
It's possible to use some tiles as an economical and practical substitute for more expensive natural materials like concrete, hardwood, and marble. To be more precise, the correct living room floor tiles can produce an easier-to-maintain flooring alternative over time. Using a tile imitation can be a hassle-free solution in areas where natural materials like wood aren't as sturdy. Additionally, if you want the look of marble but can't afford it, there are other tile choices that may achieve the same look and feel in any room of your home.
Neutral Tiles to Create an Ambiance 
 Vibrant colors need a calm or neutral backdrop to make them pop in any nook in your house interior design. Despite the fact that a room's individuality is enhanced by a variety of hues, it is important to select the right hues to pull the area together. They might all come from the same color family, or they can be a color block of two polar opposites at the very least. It's also important to keep the color scheme simple in order to keep the area from seeming like a "freakshow of colors," which may make a space appear cluttered.
Make A Style Statement with Tiles 

 Everybody knows that a rug is essential to completing the look of a living room. However, in areas with year-round dust and humidity, many homeowners cannot even think of adding a rug to their place. Yet some ceramics and tiling designs may be used to create eye-catching geometric features in your living area interiors. Using a matching set of tiles under the console table creates distinctive carpeting without the effort of having a real one. A similar effect can be achieved by using highlighter tile strips to divide a massive area into smaller, more manageable chunks. 
Design an Interesting Living Area with Patterned Tile
It is possible to get an even more striking look by tiling the floor of your living room ideas in a style that is not common. Your floors will seem more regal and luxurious if you choose patterns like cobblestone, double-basket weaving, Damask, and zigzag instead of plain up-or-down stripes.                                                                             
Opt for A Monochromatic Tile Design
Choose a color or pattern that will stand the test of time rather than one that will quickly go out of style when you wish to change things up in an instant. Choosing a neutral color palette or a long-lasting, elevated material will ensure a floor that you won't get weary of in the years to come. Black-and-white patterning and decorative elements for your flooring can never go out of style.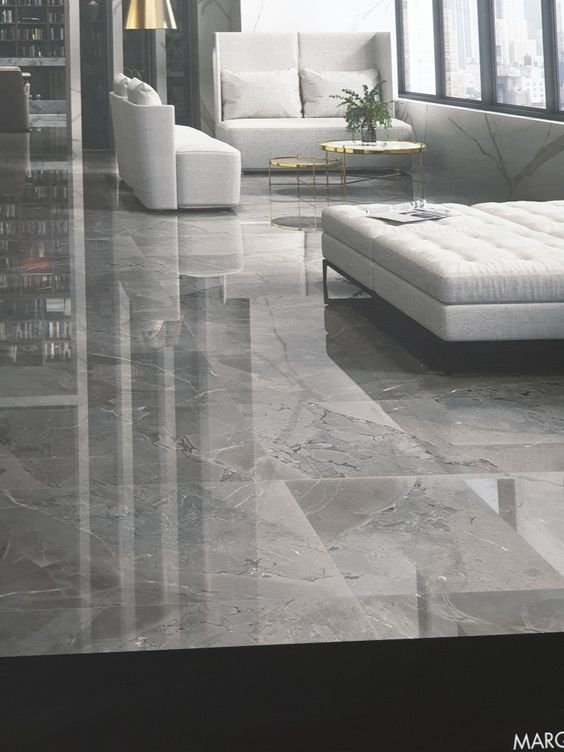 Get a Rich Look with Dark Wooden Color Tile
A dark wooden tile can instantly transform any room into a cozy retreat space. This type of tile often has an earthy look that makes it easy to pair with neutral furniture ideas or bold accents like colorful throw pillows or rugs.
Read next:Fantastic Flooring Upgrades To Greatly Increase Your Home's Value
Related Topics: Floor design for home