Luxury Bathrooms: Steal These 5 Clever and practical Ideas
Are you all spent from seeing the same old and boring bathroom that is only functional with no aesthetical element attached to it whatsoever? Do you want to do something about bathroom interior decoration? If so then you have come to the right place. Luxury bathrooms are no longer a dream and they are turning into a reality without the incandescent spending of money and throwing off some serious time into the mix.
Sounds almost too good to be true, right? But you don't have to worry as long as you stick with the following clever and practical ideas to turn your bathroom around from a boring place into a luxurious and detailed space;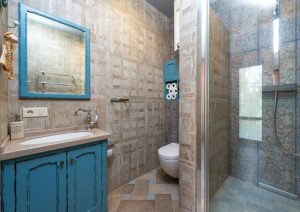 When we talk about bathroom interior decoration, color it isn't necessarily about painting your walls new it is about adding the touch of the metal which was considered costly and not at all practical in the not-so-recent past. Guess what? It is coming back and this time around it is more majestic and detailed than it ever was. All kinds of metals may it be copper, brass, rose gold or steel are coming back and are being introduced into the luxurious lineup of modern bathrooms. 
To turn your bathroom design around you can introduce a dash of rose gold around the sink, go for a large wall mirror that comes with this incredible silver frame and possibly some copper fittings if you are feeling the rage. But make sure that you make it all work, mix and match to make it a success.
Most homeowners would go with tiles not only for the aesthetical gradient these can develop but also for the sake of keeping the humidity out, the end result? Your bathroom comes around looking dull and like any other bathroom out there. To spice things up it is recommended that you do use wallpapers and don't worry about keeping the humidity out as there are certain options available in wallpapers now that make them as good as any other tile out there regarding humidity and keeping the moisture in. 
Your washbasin is your centerpiece
Most people think that it is the bathtub or the showers that are the centerpiece of the bathroom but actually it is the washbasin that should be entitled to that. The first thing that anyone is going to see while they walk into your bathroom is going to be your washbasin so it is important that you make it your centerpiece. 
You can add a splash of color all around it in the form of adding metals such as silver around the mirror and copper around the length of the washbasin. Also, if you can add in the vanities and mirror too that would be a plus.
There is no harm in being bold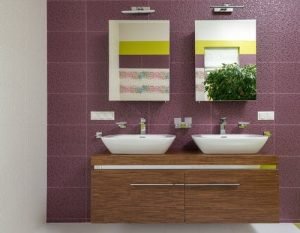 Remember the end result that you are after should be unique and different from what the usual workaround the interior design and home décor is nowadays. If you are also shooting for the same look then what is the fun in that? 
You can dare to be bold with your bathroom design by incorporating colored basins and bathtubs and choosing these too in daring and bold colors and hues. It doesn't mean that you are making the whole thing a bit awkward during bathroom interior decoration, on the contrary, it means that you are shooting for the stars and that is exactly what you should be doing if a normal or traditional aesthetical routine doesn't fit best with you.   
At the end of the day, the whole thing is about developing balance and holding onto it because the moment you have left the balance split you have totaled the game for good. The classics remain an excellent choice among thousands of homeowners out there when it comes to revamping the look and feel of their bathroom and if you want the same feeling then you need to go with the classics.
You can either make the bathtub or washbasin the centerpiece of the room and it will be drawing all the attention and focus and mix it with the white. White paint, white accessories, and white hue pour down from all corners of your bathroom. You can also choose white for all your functional pieces but to add a bit of contrast and uniqueness into the whole deal try to add in wood furniture around the space too as it would make the whole thing liven up.    
READ NEXT:Top 5 Interior Design Inspiration For Tiny Bathrooms
RELATED TOPICS:Bath Room Design ideas