Small Bathroom Remodel Ideas and Inspiring Designs
Remodeling is a peculiar phenomenon if done without any planning or strategy at hand but if proper time and focus are invested into it then it could come out to be an amazing turnover for your investment and increase the overall value of your house. Bathroom remodeling is strangely difficult as compared to other areas and rooms of the house and if by any chance you have got a smaller bathroom then it certainly becomes a whole lot difficult. We are sharing bathroom design ideas with you.
The myth that small bathrooms could only be made functional and not aesthetically vibrant gets debunked when you lay your eyes on the following interior design ideas for a small bathroom;
Consider adding a mirror wall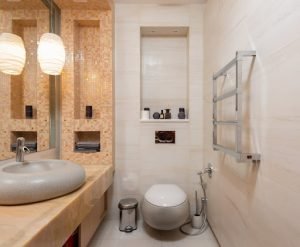 The best bathroom design ideas for a small space make it only makes sense to add a mirror across a whole wall and preferably over the vanity point to make it look more open than it actually is. This way you will also be able to get really good lighting from the fixtures and or the windows adding to the overall aesthetical profile of the bathroom that is shallow on space. What it really does is to develop a façade of the additional space which is not there per se turning your small bath area into something that looks sufficient and aesthetically significant at the same time. 
As you can see bathtubs do take a lot of space about half of the bathroom's floor space making them uneconomical referring to the bathroom real estate. If you can get by without a bathtub then it is recommended to switch to showers, these are horizontal and take half the space as compared to a fully-fledged tub. But on the other hand, if you have got children and want to include a tub for them then consider going for a low profile tub that doesn't simply take as much space as a full tub. 
Smaller sinks and floating-vanities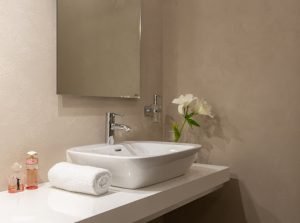 If it is absolutely important for you to save floor space then the best bathroom design ideas are to opt for smaller and compact sinks. This way you will be saving yourself incredible square footage of the area making the bath seem open. 
Wall-mounted sinks ought to do the trick because these are fairly induced into the wall and you don't have to worry about its construction quality because it is as sturdy as the normal sinks. On the plus side of things if you like you can invest in the floating vanities to be able to save more space as these definitely create the feeling of just doing that allowing you to customize the shelving and stocking aspects of the bathroom design the way you prefer.
Open shelves are the way to go
The vertical placing of elements in a tightly confined space is a tested way of stretching the available per square footage and making that area look considerably bigger and open, the same should be done with an overtly limited bathroom area too. Allot open shelves to the side of the sink with no doors or cabinets to increase the overall surface area for placing the personal items rather than completing taking these out of the equation. 
You can choose the entrance door, vanity mirror, or some other space within the bathroom for putting down the open shelves and seeing an incredible boost in the overall space that your bath has to offer. Also, the back of the door is a great place to attach some hooks that can take care of your towels, clothes to wear, and other apparel rather than sulking these onto the floor or outside of the bathroom. 
Dark floors go with lightly textured walls
Smaller bathroom design requires you to be a bit strategic about the color scheme/pattern that you have chosen because otherwise, the whole thing would come out pretty off and not syncing at all. Dark-colored walls will make your already small bathroom seem even tighter and confined but on the contrary, the brightly colored walls will help in taking in more light from around every nook and corner. 
It also means that the bathroom will look roomier than it already is and paired with a dark floor pattern makes up a perfect combination of dark and light. It will help you to develop a façade of a consistent and continuous floor which will take your eyes and focus away from the smallest looking areas/spaces of your bathroom and will create an aura of a broader space all around. If you have any other bathroom design ideas.You can share with us in comment section.
READ NEXT:Make your bathroom look costly with some hacks
RELATED TOPICS:Bath Room Design ideas